Workshop: Emerging business models in +Energy Neighbourhoods and Smart Energy Communities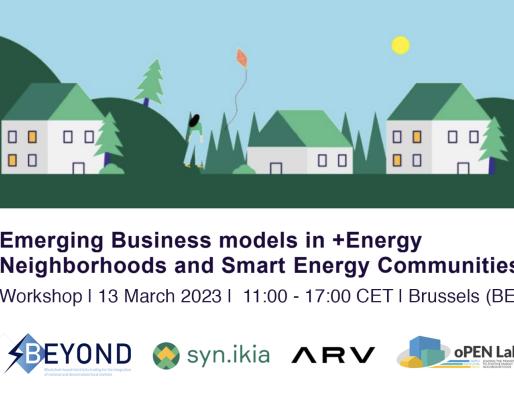 Workshop: Emerging business models in +Energy Neighbourhoods and Smart Energy Communities
Details of the conference
Organiser:
H2020 syn.ikia, H2020 oPEN Lab, H2020 ARV, H2020 BEYOND
A market uptake of plus energy (+energy) neighbourhoods and energy communities requires developing an ecosystem of business cases that successfully promote and finance their development. This might entail estimating the long-term economic viability of different financial and business models based on revenue streams coming from innovation in building design, the role of digital tools, neighbourhoods as flexibility providers, building investments, and others. Moreover, business models should bring all players involved (utilities, building owners, developers, and investors) to achieve meaningful returns on investments and reach sustainable socio-economic and environmental benefits.
In this workshop we will discuss the latest trends on emerging business models, brainstorm new ones, and shared perspectives on barriers and determinants.
This workshop in Brussels on March 13th brings together experts in the field to showcase the latest research and developments on Sustainable Plus Energy Neighborhoods/Positive Energy Neighborhoods. The event aims to create a constructive discussion on research activities from different EU projects and is open to other interested contributors and attendees.
The event is divided into two parts:
The first part of the workshop focuses on business models related to the value streams generated within and by several Smart Energy Neighbourhoods developed in different EU projects.
The second part provides an opportunity to collectively address key questions and challenges within emerging business models.
The workshop will feature presentations from four Horizon 2020 projects syn.ikia, oPEN Lab, ARV, and BEYOND.
The agenda can be found here, while the registration page is here.