Topic of the Month
Each month a relevant topic and several sub-topics are covered in detail. For the Topic of the Month, content following a common thread is developed by the BUILD UP Editorial Board in collaboration with the Board of Ambassadors and other relevant experts in the field. This includes producing articles, case studies, webinars and more, all in line with the specific topic selected. Relevant events are also identified and highlighted.
Topics of the Month are announced at the end of the previous month in our website and newsletter. Please write us if you wish to know more about our upcoming topics of the month.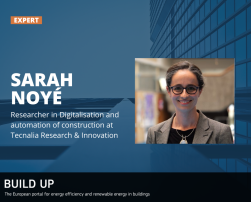 EXPERT TALKS series is an initiative from the BUILD UP portal. In the form of face-to-face interviews, experts from all around Europe and covering the field of Energy Efficiency in buildings from different perspectives share their views, experience and expertise with BUILD UP audience. The interviews address relevant topics linked to the Topic of the Month.
Integrated EPB Assessments. A pathway for effective EPBD implementation.
Smarter Energy Performance Certificates: Integrating smart readiness aspects into buildings energy certification and tools for market up-take