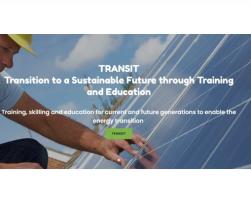 Transition to a Sustainable Future through Training and Education: Training, skilling and education for current and future generations to enable the energy transition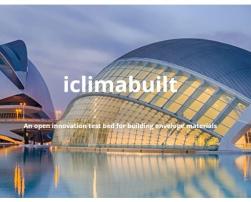 Functional and advanced insulating and energy harvesting/storage materials across climate adaptive building envelopes
ENERGATE will provide a smart energy marketplace for energy efficiency investments in buildings.
The main goal of IEA ES Task 43 on "Storage for renewables and flexibility through standardized use of building mass", is to prepare the storage technology for widespread integration on an international level, harnessing the benefits of this storage on local, quarter and city level respectively.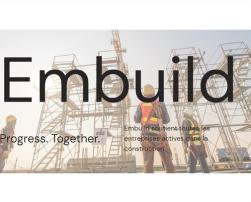 The Belgian Construction Association Embuild soutient toutes les entreprises actives dans la construction.
Energy Efficiency Watch 5 (EEW5) is a 3-year project under the European Union LIFE programme (within the Clean Energy Transition section - CET).
The aim of this project is to adapt and apply ML algorithms to extract features from publicly available databases to enrich urban digital twin models and provide optimized renovation measures for decision-support.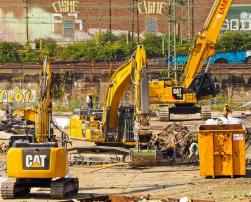 European research and innovation project in the domain of the Construction and Demolition Waste (CDW) management, focused on integrated decision making that would allow considering all aspects of CDW generation and involving all stakeholders within the construction industry in the whole life-cycle.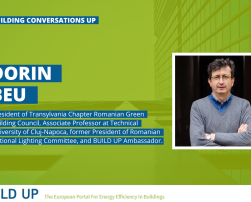 BUILDING CONVERSATIONS UP WITH... Dorin Beu, President of Transylvania Chapter Romanian Green Building Council (www.rogbc.org), Associate Professor at Technical University of Cluj-Napoca, former President of Romanian National Lighting Committee, and BUILD UP Ambassador.

Dorin served as the Director of the Romanian Green Building Council (RoGBC) Transylvania Chapter since its founding in 2009 and is charged with implementing the European Energy Award for Romanian cities, Romanian manager for the H2020 projects COME Easy and EXCITE (www.excite-project.eu). He oversees a new Master's in English, Building Services for Regenerative Cities at the Technical University of Cluj-Napoca. Dorin has a PhD in lighting, and is Associate Professor at Technical University of Cluj-Napoca, manager of the Lighting Engineering Laboratory, and former President of the Romanian National Lighting Committee.

LinkedIn profile

Facebook profile

The GrEnFIn Erasmus+/Knowledge Alliance project aims to provide to the stakeholders (energy providers, private companies, research institutes,…) the figure of the Sustainable Energy experts professional, i.e. European high skilled professionals capable to face the changing challenges in the field of Green Finance, Climate and Business, Energy Transition.