SmartBuilt4EU : Latest published brochures highlighting 100 Smart Buildings projects and 37 promising innovations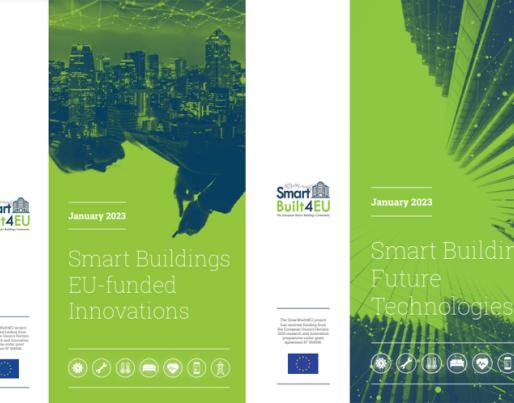 SmartBuilt4EU : Latest published brochures highlighting 100 Smart Buildings projects and 37 promising innovations
Toqa Khalifa
While smart buildings can enhance renovations, they also have a significant impact on energy performance and help to reduce energy consumption. Explore the latest SmartBuilt4EU brochures putting the spotlight on the most promising Smart Buildings projects and innovations funded by the European Commission and CINEA the European Climate, Infrastructure and Environment Executive Agency.
The first brochure highlights more than 100 projects related to Smart Buildings, which are all supporting innovation and market uptake of smart buildings technologies and services by trying to improve awareness and acceptance of building occupants, interoperability between devices and systems, energy optimisation within and between buildings, energy services offered to consumers, or the integration of building flexibility with energy networks.
The second brochure highlights a selection of 37 promising innovations from these projects. These innovations have been selected because of their high degree of innovation, potential exploitability, and expected impacts. 
About SmartBuilt4EU:
The SmartBuilt4EU project is a 30-month project funded by the H2020 program and led by ECTP, the European Construction, built environment and energy efficient building Technology Platform. The project's goals are to support innovation among smart building value chain stakeholders, identify R&D gaps, and advocate legislative changes to enable the further use of smart buildings. It also supports the evaluation and deployment of the Smart Readiness Indicator, the new common EU scheme to evaluate smart readiness of buildings.
These brochures are a collaborative work which was managed by R2M Solution, assisted by other project partners including ECTP, Dowel Innovation, Eurac Research, VITO, Luxembourg Institute of Science and Technology (LIST), Cardiff University, VTT, TNO, and ASM.
Link to Brochures:
Themes
Heating, Ventilation and Cooling
Energy efficiency technologies and solutions
Renewable Energy Sources (RES)
Building Renovation
Building Renovation
Smart Building technologies
Indoor Environmental Quality
Nearly zero-energy buildings