Expert Talks - Christophe Sykes, Director General at Construction Products Europe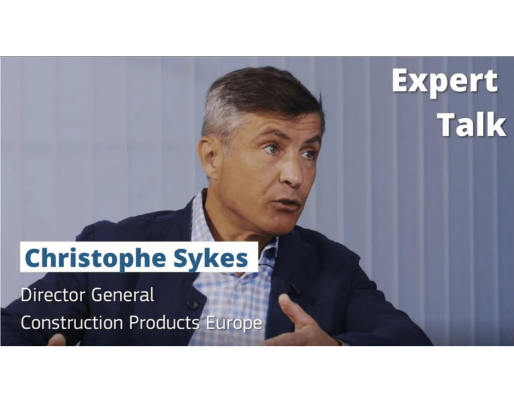 Expert Talks - Christophe Sykes, Director General at Construction Products Europe
Daniel Aragón
EXPERT TALKS is a new initiative from BUILD UP. In the form of face-to-face interviews, experts coming from all around Europe and covering the field of Energy Efficiency in buildings from different perspectives will share their views, experience and expertise with BUILD UP audience. The interview addresses relevant topics linked to the Topic of the Month.
For this edition of the Expert Talks series, the interviewee is Christophe Sykes, Director General at Construction Products Europe (AISBL) and member of the Chairman Advisory Group of the CEN Adaptation to Climate Change project. The questions addressed in this Expert Talk relate to the pathways to recovering from this 2020 Coronavirus crisis and the provisions for the building sector included in the Green Deal and associated European policies and regulations.
Christophe Sykes starts by referring to the startling numbers by which the European construction sector's production has decreased, and how an uncertain recovery process is expected to unfold its way slowly into late 2021. He underlines how, right from the beginning of the crisis, a constructive dialogue was established with the new European Commission, from where it was expressed a clear intention to help the construction sector aiming to prevent the hardship of socioeconomic fallouts. Here, a crucial issue for the industry is to retain skills, workers and keep companies afloat through this period, he explains.
Considering the energy performance of buildings, during the interview, Sykes points out the direct link to the climate targets of reference and stresses how it would be now clear for everybody that this challenge can no longer be ignored and that "we have all the solutions". A lot can be achieved, as long as all actors of the value chain get involved, the Member States, finance stakeholders, as well as buildings owners, he states.
Addressing the Green Deal, and its Renovation Wave in particular,  which measures would be announced this autumn, Sykes explains the urgency to achieve agreements and have it translated into tools that would support industry, SMEs and construction workers in the shortest delays.
Further environmental issues of the building industry in regard to construction products and materials are also discussed in the interview, considering the CE marking, the Environmental Product Declarations (EPD) and their potential to supporting Circular Economy, wellbeing and comprehensive sustainability. Digitalisation would be "connecting all the dots". He also mentions the Digital Building Logbook and the Level(s) initiative, from DG Environment, as pieces of "the big puzzle that is construction". Looking forward to seeing all these elements coming together to ease the comprehension of what the sector can deliver.
Finally, a hint is also given to the brand new Construction 2050 Alliance, gathering already 47 associations linked to construction aiming to showcase the potential sector at EU level.