ePANACEA HORIZON 2020 project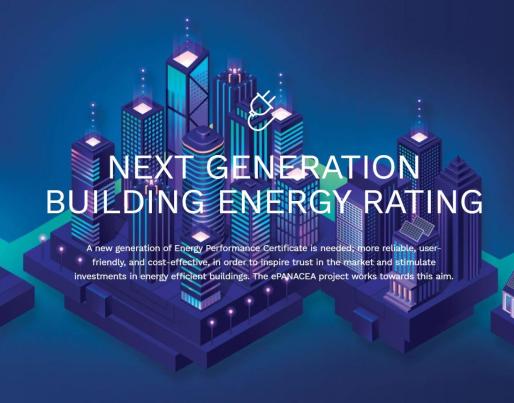 ePANACEA HORIZON 2020 project
This project has received funding from the European Union's HORIZON 2020 research and innovation programme under grant agreement No 892421

Alexander DELIYANNIS
ePANACEA is a project funded under the EU's Horizon 2020 programme, aimed at developing a holistic methodology for energy performance assessment and certification of buildings. The vision is ePANACEA becoming a relevant instrument in the European energy transition through the building sector.
ePANACEA comprises the creation of a prototype (the Smart Energy Performance Assessment Platform) making use of the most advanced techniques in dynamic and automated simulation modelling, big data analysis and machine learning, inverse modelling or the estimation of potential energy savings and economic viability check.
A relevant part of the project is to have a fluent dialogue with European policy makers, certification bodies, end-users and other stakeholders through two types of participatory actions: on the one hand a feedback loop with policy makers will be carried out through the so called Regional Exploitation Boards (REBs) covering EU-27+Norway+UK, and the dialogue with the end-users will be established by means of specific thematic workshops.
Thanks to these participatory actions we will ensure that ePANACEA approach is aligned with and meets the needs of national public bodies, end-users and other stakeholders with a view to test the acceptance and to validate the methodology developed.
ePANACEA will demonstrate and validate reliability, accuracy, user-friendliness and cost-effectiveness of the methodology through 15 case studies in 5 European countries.
Partners:
FUNDACION CENER
CERTIFICACION ENERGETICA SL
Teknologian tutkimuskeskus VTT Oy
TECHNISCHE UNIVERSITAET WIEN
CENTRE FOR RENEWABLE ENERGY SOURCES AND SAVING FONDATION
VLAAMSE INSTELLING VOOR TECHNOLOGISCH ONDERZOEK N.V.
IZES GGMBH
INSTITUTO PARA LA DIVERSIFICACION Y AHORRO DE LA ENERGIA
ENERGIE AGENTUR STEIERMARK GEMEINNUTZIGE GMBH
SYMPRAXIS TEAM P.C.
Start date: 1/06/2020 - End date: 31/05/2023