POWERSKIN PLUS project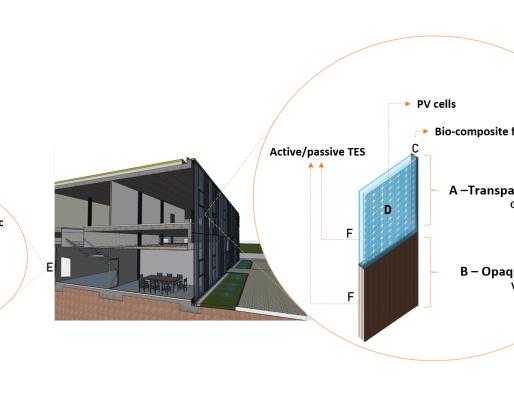 POWERSKIN PLUS project
This project has received funding from the European Union's Horizon 2020 research and innovation programme under grant agreement No.869898

Laura Hevia
Highly advanced modular integration of insulation, energising and storage systems for non-residential buildings
ABOUT POWERSKIN+
The project aims to develop a truly innovative façade solution based on the smart integration of highly energy efficient components, including super-insulative elements, solar energy harvesting and active energy storage features, all in one single combined active/passive management system especially addressed for modern non-residential lightweight Curtain Wall and Double Skin Frame (DSF) retrofitting solutions.
POWERSKIN PLUS (POWERSKIN+) intends to be at the forefront of the first generation of off-site prefabricated, modular "ready-to-buy" and easy-to-install glazing and opaque elements, with sustainable ecodesigned connecting framings, improved functional coatings, active and passive thermal energy storage (TES) technology solutions and integrated semi-transparent PV cells. The solar electric harvesting features will be matched and completed with a dedicated large capacity building electric storage system, in a true energy management turnkey package.
Starting from TRL5 technology, the ultimate objective of the 4-year project is to generate a set of POWERSKIN+ hybrid-enabled system prototypes and demonstrate them in an operational environment (TRL7), thus treading the path for future exploitation of the Plus Energy Non-residential Buildings, as the primary market entrance.
The robust and highly innovative prefabricated POWERSKIN+ modules will be integrated synergistically, offering high adaptability in relation to climatic characteristics, geographical conditions, physical constraints and national regulations.
Taking advantage of its modular nature, different combinations of POWERSKIN+ modules and addons can be set to match any specific need and refurbishment budget. In its full package, branded as POWERSKIN+ Upgrade, the system targets the deep renovation market and accelerates the transition to plus energy ranks, while providing a unique all-in-one envelope retrofit solution.
THE SMART COMBINATION OF ALL THE 3 FUNCTIONS:
insulation/climate control
energy harvesting and storage
in the least invasive exterior building refurbishing way, with minimum adaptation and skilled installation required
offers POWERSKIN+ modules a unique place in the renovation market.
For less demanding retrofitting scenarios or lower budgets, POWERSKIN+ standard option, comprising the transparent/opaque superinsulation modular futures solely, will still be a strong market competitor to allow office and commercial buildings to reach nZEB standards.
OVERALL CONCEPT
The concept proposed by POWERSKIN+ releases the untapped potential in the energy insulation/valorisation and energy generation of building facades, by developing an integrated approach that consists of a number of innovations whose technologies, efficiencies and added value exceed the currently available alternatives on the market.
POWERSKIN+ presents a radically new vision for energy insulation and renewable generation that will combine a number of state-of-the-art developments in highly energy efficient materials and superinsulation elements, solar energy harvesting components and active energy storage features, with breakthrough technologies based on Nano formulation of VIP core, nano-PCM, flexible thin glass solar cell and multi-functional nano-enabled coatings.
At the same time, each of these sub-technologies is designed for highest compatibility with standard manufacturing lines so that rapid implementation, adaption to various use-cases (e.g., dependent on building location) and market penetration can be ensured.
The vision is materialized in the development of modern lightweight Curtain Wall and Double Skin Façade (DSF) retrofitting systems for non-residential buildings, comprising the first generation of off-site prefabricated glazing and opaque elements with eco-designed framings, multi-functional coatings with self-cleaning, light reflective or absorbing, self-healing properties, active and passive thermal energy storage and integrated semi-transparent PV cells, novel non-intrusive re-vacuum and in the implementation of three demonstration constructions.
POWERSKIN+ will create and demonstrate pilot nZEB and Plus Energy Buildings (PEB) that can also be affordable, provide a comfortable and healthy indoor environment, and be stimuli-responsive and dynamic to climatic conditions, occupant comfort and energy efficiency requirements.
Partners:
INSTITUTO PEDRO NUNES ASSOCIACAO PARA A INOVACAO E DESENVOLVIMENTO EM CIENCIA E TECNOLOGIA
FRAUNHOFER GESELLSCHAFT ZUR FOERDERUNG DER ANGEWANDTEN FORSCHUNG E.V.
FRIEDRICH-SCHILLER-UNIVERSITAT JENA
BRUNEL UNIVERSITY LONDON
FLACHGLAS SACHSEN GMBH
POLITECNICO DI TORINO
OXFORD BROOKES UNIVERSITY
CESKE VYSOKE UCENI TECHNICKE V PRAZE
FENIX TNT SRO
NAVODNIK KEMIJSKI INZENIRING d.o.o.
SAULE SPOLKA AKCYJNA
POLITECHNIKA WARSZAWSKA
PROIGMENES EREVNITIKES & DIAHIRISTIKES EFARMOGES
FUNDACJA SAULE RESEARCH INSTITUTE
Start date: 1/10/2019 - End date: 30/09/2023