Unlocking Operational Rating Schemes: the synergetic added value of SmartLivingEPC & CHRONICLE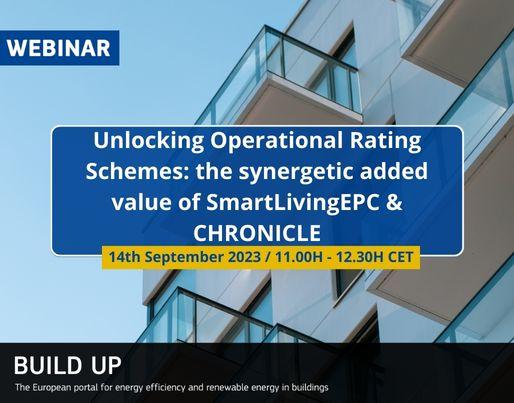 Webevent/virtual conference
Unlocking Operational Rating Schemes: the synergetic added value of SmartLivingEPC & CHRONICLE
Details of the conference
Organiser:
SmartLivingEPC and CHRONICLE projects
In an era of rapid urbanization and growing environmental concerns, the need for sustainable and energy-efficient buildings has become increasingly critical. To address these challenges, the European Union has funded several innovative projects around the topic of building performance assessment and certification, including SmartLivingEPC & CHRONICLE. SmartLivingEPC & CHRONICLE projects share a common objective: to enhance the measured and operational performance of buildings through comprehensive operational rating schemes. 
The joint webinar co-organized by SmartLivingEPC & CHRONICLE aims to shed light on the intricacies of operational rating schemes and the synergies between these two ground-breaking initiatives. By bringing together technical experts, policymakers, and stakeholders in the field of building performance, this webinar seeks to foster knowledge exchange and further collaboration. 
During the webinar, participants will delve into the methodologies employed by SmartLivingEPC and CHRONICLE to evaluate and monitor the operational performance of buildings. They will gain insights into the metrics, data collection techniques, and benchmarking methodologies utilized to quantify energy efficiency, indoor environmental quality, and overall sustainability.  
The webinar will also further the already fruitful collaboration between the projects. By fostering an interdisciplinary and collaborative approach, this joint webinar facilitates the knowledge exchange and collaboration to advancing sustainable, healthy, and energy-efficient buildings. 
11.00
Presentation of BUILD UP, Introduction to webinar topic and agenda
11.03
Challenges in Building Environment & Operational Rating Schemes
Sofia Bazzano
EU Project & Financial Officer at REHVA
11.08
From H2020 to LIFE-CET: The Buildings Topic(s) in transition
Ulrike Nuscheler
Senior Project Adviser LIFE Energy + LIFE Climate, CINEA
11.23
Keynote session- Measuring building performance as a steppingstone towards operational rating
Andrei Vladimir Lițiu
Executive Director at EPB Center
Speaker 2: Gusts Kossovics
Director Technical Communication at eu.bac
11.53
Presentation by SmartLivingEPC
Paris Fokaides
Senior Researcher, Frederick Research Center
12.08
Presentation by CHRONICLE
Angelina Katsifaraki
Project Manager at HYPERTECH SA
12.30
Thank you from BUILD UP