Expert Talk - Valeria Ferrando & Eduard Loscos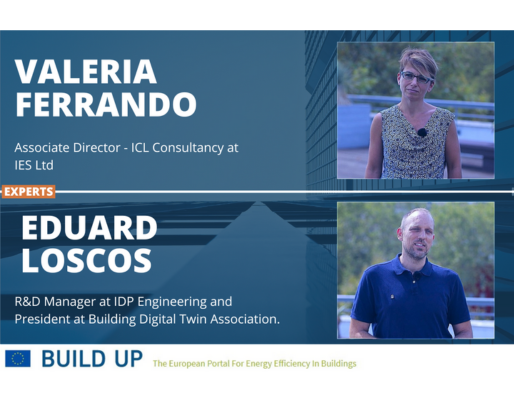 Expert Talk - Valeria Ferrando & Eduard Loscos
Daniel Aragón
EXPERT TALKS series is an initiative from the BUILD UP portal. In the form of face-to-face interviews, experts from all around Europe and covering the field of Energy Efficiency in buildings from different perspectives share their views, experience and expertise with BUILD UP audience. The interviews address relevant topics linked to the Topic of the Month.
This month we will be discussing about "Digitalisation in the building sector" with Valeria Ferrando, Associate Director - ICL Consultancy at IES Ltd, and Eduard Loscos, R&D Manager at IDP Engineering and President at Building Digital Twin Association. 
During the interview, Ferrando and Loscos answer questions about how is a digital twin applied to the building sector, what are the benefits of implementing digital twins in a building project or what are the application challenges.
Ferrando's role in IES consists in managing EU funded research projects dealing with energy efficient and sustainable buildings and districts, ensuring that they lead to marketable products for the company. Furthermore, she takes care of finding new funding opportunities and research grants at European level to support IES R&D, setting up partnerships and writing proposals.
Eduard Loscos is currently R&D Manager at IDP Engineering and Architecture, where he provides leadership based on both his scientific background (Physics from UAB) specialising in optics and Master in Environmental Engineering (UPC) and his more than 20 years of experience in Business Development in diverse markets ranging from programming, communication and design, optoelectronics, technology transfer and AECO industry.