Webinar - Bringing Circular skills to the design and construction sector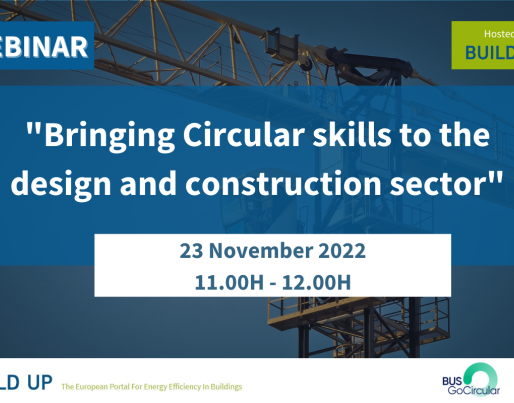 Webinar - Bringing Circular skills to the design and construction sector
Daniel Aragón
On 23rd November from 11.00H to 12.00H, the BUS-GoCircular project celebrated its webinar "Bringing Circular skills to the design and construction sector" hosted by BUILD UP.

WATCH IT HERE!

The session was presented by Aranzazu Galán González, Senior Researcher at Université Libre de Bruxelles and BUILD UP Editorial Board Member, and moderated by Helena O'Rourke-Potocki, from ICLEI. 
The session presented the work developed so far on the design of the circular skills framework and the next steps for validation and implementation. 
BUS-GoCircular experts talked about the key elements of Circular Economy, how they are translated in the required skills, how this can be used for upskilling professionals in the design and construction industry, and also how this framework was validated. 
They also talked about future offers of BUS-GoCircular Train The Trainers programme and mentorship schemes. As additional information, during all the conferences there were questions addressed to the audience to get them to participate and get more involved in the session.
Samy Kazemi, from Circle Economy, was the first speaker to take the floor, which revolved around the question "What are the key elements of Circular Economy for the design and construction professionals?". 
For his part, Martin Breen (TUS) brought some light to the question "What are the circular skills required in the design and construction?". Some of the skills identified were: 
Solar power systems for electricity generation
Design / Build for Reuse
Sustainable Drainage Systems
Apply material passports
"Upskilling, training and mentoring must be provided in order to reach a more sustainable construction industry throughout Europe", Breen argued.
"How circular skill recommendations and the qualification are used for upskilling?", asked project coordinator Jan Cromwijk (ISSO). Cromwijk based his answer in two aspects: 
Use of Skill-level recommendations
Circular Skills Qualification
But... How is the qualification framework validated? This section was in charge of Ira Ivanova and Sybren Steensma, who talked about market validation: national focus groups, identified key stakeholders, the agenda and the outcomes. 
Finally, to conclude the session, the panellists had the opportunity to answer also to the questions raised by the audience, during a Q&A session moderated by Helena O'Rourke-Potocki.