Webinar - Energy generation and storage technologies in buildings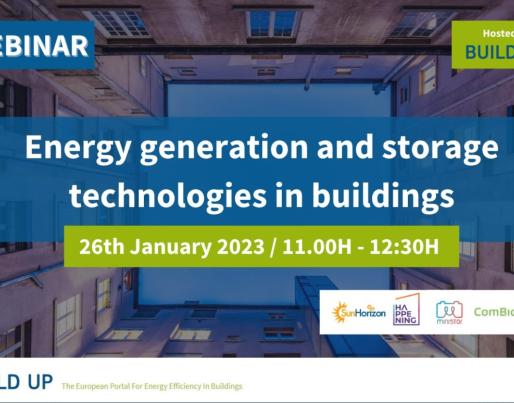 Webinar - Energy generation and storage technologies in buildings
Daniel Aragón
On Thursday 26th January from 11.00H - 12.30H CET, BUILD UP welcomed the SunHorizon, HAPPENING, MiniStor and ComBioTES projects in the first BUILD UP organised and hosted webinar of 2023. The event was organised under the January 2023 Topic of the Month "Renewable heating solutions for buildings".

WATCH THE FULL VIDEO HERE

Moderated by Aranzazu Galán, Senior Researcher at Université Libre de Bruxelles and BUILD UP's Editorial Board Member, the webinar presented two projects that explore technological solutions for heating/cooling coupled with renewables (SunHorizon and HAPPENING) and two projects that explore aspects of energy/thermal energy storage (MiniStor and ComBioTES).
Serena Scotton, from RINA Consulting, was the first speaker to take the floor to talk about the vision and objetives of the SunHorizon project. Then, Andrea Gabaldon, from CARTIF, went into more detail on the explanation of the technology packages developed by the project, together with the lessons learned during the development of the project.
After that, it was the turn of the HAPPENING project presented by Jon Iturralde, from TECNALIA. Iturralde focused his presentation on the background and goals of the project, the concept and demo cases. Finally, he highlighted some of the conclusions obtained. 
In third place, Carlos Ochoa (IERC) explained what it is about the MiniStor project, from an overview to the impacts of the project and an explanation of MiniStor thermal system components, concluding with the challenges to implement novel thermal energy storage in residential settings in Europe.
The presentations ended with the speech of Eleonora Alamaro (AMIRES) about the ComBioTES project. Alamaro detailed the project organisation and some of the demonstration cases they are working on. Finally, it was the turn of the audience to speak and share their thoughts through a Q&A session moderated by Aranzazu Galán.
webinar_2601_-_energy_generation_and_storage_technologies_in_buildings.pdf
English
(8.38 MB - PDF)
Download