The EU-funded E-DYCE project is developing a methodology for dynamic Energy performance certification (EPC) intended to replace or be used in conjunction with the current static or steady-state methodology
The EU-funded EUCF project aims to build a pipeline of sustainable energy investment projects in cities across Europe.
The project's goal is to develop and demonstrate novel modular, compact, high performances and Plug&Play thermal energy storage (TES) solutions for heating, cooling and hot tap water production.
The EU-funded HAPPENING project is developing a solution based on decentralised heat pumps that are easy to install, low-intrusive for the building's occupants and easily adaptable to a large number of different building situations.
The EU-funded NEUTRALPATH project will demonstrate the benefits of PCEDs, particularly those based on human-centred and co-creation principles as a feasible and cost-effective way to achieve emissions reduction by 2030.
RESHeat delivers an advanced 100% RES system on combined cooling, heating, and power (CCHP), including seasonal underground energy storage.
The EU-funded Surefit project aims to renovate domestic buildings using innovative and cost-effective prefabricated technologies that don't damage the environment.
EUREC is the voice of renewable energy research in Europe, representing European Research Centres active in renewable energy.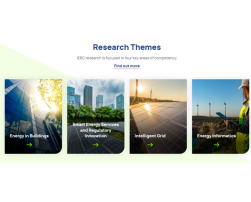 Tyndall National Institute is a leading European research centre in integrated ICT (Information and Communications Technology) hardware and systems. Specialising in both electronics and photonics – materials, devices, circuits and systems and energy systems research.
Minimal Size Thermal and Electrical Energy Storage System for In-Situ Residential Installation